Music
I knew music had to be a part of chronicling the signs of our waking planet. Nothing can compete with the power of music to touch people deeply, transcend boundaries and remind us all of our shared essence.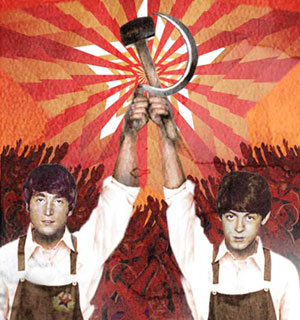 I wasn't sure what I should highlight to exemplify the universality and power of music, but found the answer last night watching the documentary film, "How the Beatles Rocked the Kremlin". Released to coincide with the 20th anniversary of the fall of the Berlin Wall, the film documents the secret revolution that brought the Soviet Union and totalitarianism down — Beatlemania!
I knew the Fab Four took the world by storm (I remember my girlfriends and I screaming through Abbey Road- for eight hours at a stretch) but I had no idea how much they were worshiped by the youth in the USSR. If there was anything more exciting than the Beatles, it was Outlawed Beatles. The Beatles were a shining light of hope in the dreariest of landscapes. As one described it, "they poked holes in the Iron Curtain and we breathed through the holes."
The young people were transfixed and found the most ingenious ways to listen to the banned music. They illicitly recorded the Beatles from Radio Luxembourg and etched the songs onto x-ray films, the only vinyl around, making "rib records". Fans swapped and even rented pictures of the coveted musicians. Thousands of underground "Beatles" bands sprung up across the USSR. They made guitars from furniture, utilized parts from public phones for electronic pick-ups and stole the speakers from telephone poles used to broadcast Soviet propaganda. Professors, reporters and even the former Russian Deputy Premier said the Beatles were more important in bringing down Communism than the Cold War and threats of nuclear missiles.
The film culminates with Paul McCartney's performance for 100,000 in Red Square, which many described as a "holy experience."
Music — it can inspire whole generations and topple authoritarian regimes. It can provide hope, world connection, and sometimes remind us of eternal truth —"And in the end, the love you take is equal to the love you make."
Waking Planet Album Pick of the Month
I hope you will check out this relaxing, inspiring and lovely album by Robyn Bryant, a new friend I've met online! She describes it best-"Into the Ether" is a meditative, yet also powerful and sensual compilation of songs intended to inspire love, joy and peace throughout humanity."
Click here to listen to four songs, including "One Vibration" a hauntingly beautiful blend of whale song and Native American flute. myspace.com/robynbryantart
The CD is avbailable through CD Baby- www.cdbaby.com/cd/robynbryant1
I also hope you will check out Robyn's exquisite owl art. The owls brought us together! robynbryant.net/3.html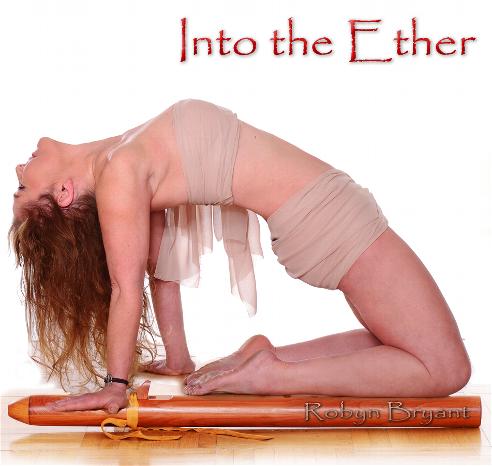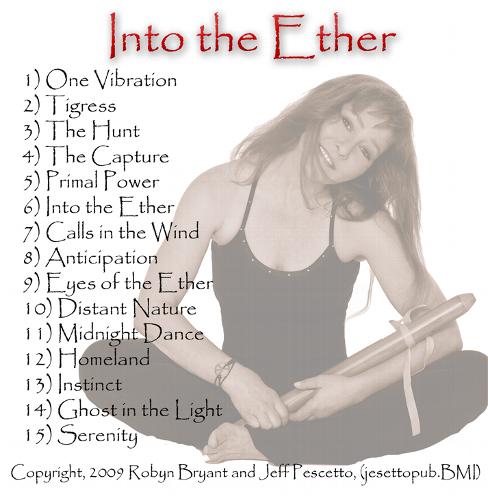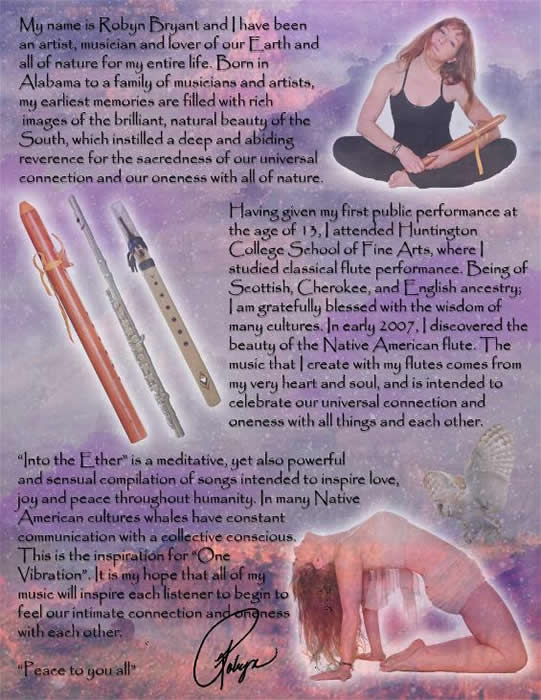 Also by Robyn Bryant-
"Reflections on My Water Bowl and Other Insights" (a poetic journey through life's realities from a canine perspective) Meant to inspire love peace and joy in our world of chaos!
"BEST SELLING AUTHOR" on dog reality, "Buddy" has emerged as the foremost literary canine of our time! In this delightful, whimsical look at the daily life of a dog, our human experience can be seen from a lighter and more joyful perspective! With such works to his credit as "Ants in my Bowl", "People Food" and "The Vacuum Cleaner" Buddy's ingenuity and insight is unsurpassed, at least in CANINE history!
Available on amazon isbn # 1419697900
"Traveling the Heart" by another great artist.

Chris Lanés "Traveling the Heart"

Buy Now - $13.00

Listen to a sample.

This text will be replaced by the flash music player.

Musician Chris Lané takes us on a journey to more perfect realms in "Traveling the Heart" His expressive, iconoclastic guitar styling and innovative electronic effects create a dreamy concoction that mesmerizes and delights at every turn. Chris is an original member of the world music ensemble, Futu Futu that played Woodstock '94 and is also a founding member and the inspirational driving force for the experimental groups, Puc and Blue East. He has played with Tony Levin, Robbie DuPree, Peewee Ellis and Sarah Perotta among many others.
Chris also plays mandolin, banjo, and creates magic with loops, sampling and electronic effects. He counts Brian Eno, Miles Davis, Muddy Waters and Ali Farka Toure as a few of his many influences. Chris has two duo cds; one with Joakim Lartey (Two Souls) and one with Peter Buettner (While We Are Still Here) and he has six solo cds. Hear them at http://www.myspace.com/chrislanepuc. Listen and be transported!